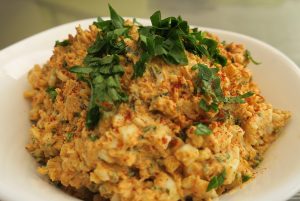 This is a true family recipe. When I made it for dinner today, I had to call my sister to make sure I remembered it correctly. We don't know any place to find it other than our family's collective memory.
It was my sister's idea that I should share the recipe on the blog. I never would have thought to include it because it's not chocolate, but I suppose I can admit that I occasionally eat food with no chocolate content.
My family calls this the "Polish egg spread"; it was passed down to my dad's mother by a German relative (I think). It's easy to make, quite forgiving, and it's delicious on a slice of fresh bread.
---
Ingredients:
6 hard-boiled eggs (not hot)*
50 g butter at room temperature
1 bunch chives, finely chopped
2 to 3 tsp paprika
3 tsp mustard
salt to taste (a big pinch, or if you use salted butter you don't need much extra)
---
Instructions:
Crush the eggs with a fork or with a potato masher. Combine with the butter, then add all the flavourings and mix.
Enjoy!
---
*Did you know that the best way to make perfect hard-boiled eggs is to put them on the stove in cold water, heat on high until the water boils, then turn the heat off and leave the eggs in the water until it's cool enough for your hands? This way, your eggs be hard in the centre but won't have that overcooked grey layer around the yolks. If your stove is very powerful (big gas burner or induction), then leave the water boiling for a minute or so.