My sister used to vacation with me and my math friends for a week each summer; as you might guess she has a lot of patience. By the end of each vacation she was well-trained: she would laugh at our jokes, use words like "trivial", "modulo" and "orthogonal" in casual conversation, and even get their meaning right. She became, for all non-work purposes, a mathematician. Most of my mathematician friends are a little strange. My mathematician friends are most of my friends, because I am a little strange myself in a way that makes me a socially high-functioning mathematician, but a bit of an odd one in the real world. To be fair I do well with physicists and circus nerds too.
The world outside our little academic bubble is a dangerous place for us. Here is a story to demonstrate the peril of talking to "normal people" like a mathematician:
In my early twenties I went through a bit of a rough patch. The circumstances have little relevance to this story, but I'll give you some highlights for context: I moved from Europe to the US, away from my family and friends for the first time, and had some relationship issues. Not having much of a support network at my new home and feeling quite depressed, I went to the university counseling centre seeking someone to complain to. They were very caring and conscientious, and I ended up with a wonderful therapist and a psychiatrist whom I will call Dr. Safe Side. She liked to err on the safe side. This is how my first appointment with Dr. Safe Side went:
Dr. S: "Why did you come to see me?"
Me: "I've been having trouble with X and Y and Z."
Dr. S: "Do you have family here?"
Me: "My husband, but we are going through problem Y. I also have one friend."
Dr. S: "Do you ever think about hurting yourself?"
Me: "Of course." (I was thinking "What a silly question, who doesn't"? Years later I know that most people, including my present self, don't. )
Dr. S: "Are you absolutely sure that you will not hurt yourself today?"
Let me explain: my concept of 'absolutely sure' is along the lines of 'beyond doubt, no matter what happens later today, I will not hurt myself'. So I started giving some thought to this: "What if Husband and I have a horrible fight? What if he leaves me today? What if my parents think I'm a terrible person and disown me for making such a mess of my life?" (I was prone to slight exaggerations in my thought process.) After some consideration I said:
"How could I be sure?"
Obviously the wrong answer. My therapist would have known how to interpret it, or at least she would have asked me to clarify, but in the eyes of Dr. S. my fate was decided.
Dr. S: "Ok, I'll call you an ambulance."
Me: "CALL ME A WHAT?"
Dr. S: "I think our first priority should be to keep you safe."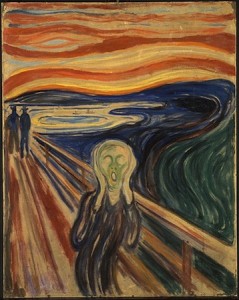 What she meant was sending me to the psychiatric emergency room, and no matter what I said at that point, I was in for the ride. The emergency room turned out to be quite the life experience. They took away my shoes, lest I strangle myself with shoelaces. An acutely psychotic guy was ranting next to me, and the nurses were discussing each patient in front of all of us as if we were babies. I realised that I might be stuck there for a while and practically had a panic attack, which made me feel appropriately unwell. After a few hours of this delightful time, I finally got to talk to the intake psychiatrist. By this time I gathered that I should focus more on the fact that I was overall reasonably ok. After 15 minutes of talking with me he seemed confused and asked "So why exactly were you sent here?". He called my therapist, who was quite surprised and assured him that I was not a danger to myself. I was released.
The other day Pink and I were filling out a pre-checkup questionnaire about our baby Pixie. "Are you concerned about your child's hearing?" "No". Pixie obviously hears just fine, at least to the extent that one can tell based on observing his behaviour: he turns towards our voices and startles at loud sounds. "Is anyone else concerned about your child's hearing?" I was about to check "No" when Pink objected: "How would we know that no-one is? We can't read everyone's minds."
Please share embarrassing stories about yourself or the mathematician in your life in the comments. Computer scientists welcome as well.